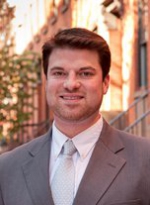 Jeff always had a feeling he would end up working in real estate, but it wasn`t until he moved to Brooklyn that he knew it would be his career. Living in Park Slope and seeing all that Brooklyn has to offer was the deciding factor that made Jeff take the plunge into the business, and he hasn`t looked back
Jeff grew up in Connecticut and lived there for most of his life. He attended Marist College, studying business and psychology, and went right in to sales after college. Now that he lives in New York City he is constantly discovering new neighborhoods and new places for his clients call home.
If you need a real estate professional willing to take the time to get to know exactly what you are looking for, then Jeff is your man. He loves meeting and getting to know new people and spaces, which is precisely why he is able to find a home that perfectly suits his clients` needs.